The Club was formed in 1985 and attracted members of the Rotary Club of Oxted & Limpsfield for whom lunch time meetings were inconvenient. Titsey & District will be celebrating its 30th anniversary on the 19th June 2015.
The historic village of Titsey, from which our club takes its name, is situated at the foot of the North Downs on the Kent and Surrey border. We meet at the Carpenters Arms, Tally Road, Limpsfield Chart, RH8 0TG (turn right signposted Crockham Hill and Edenbridge, just after traffic lights as you leave Oxted going east on A25) where we meet every Wednesday evening at 7.30pm for 8.00pm. If you would like to visit us on one of our club nights, arrange a raid from another club, or enquire about membership of our club, please call the Titsey Club Secretary (Sue Lippmann) on 07976 836363.

You may break me but you shall not bend me
The historic village is now part of the Titsey Estate which has belonged to the Gresham Leveson Gower family for over four hundred years. They have given much of the property to a private charitable trust, thus preserving for ever this part of our national heritage.
World Polio Day Fundraising. Saturday 25th Oct
A great big Rotary thank you to everyone who donated.
My thanks to all those who contibuted to the collection last Saturday. The High Street was much quieter than usual because of the start of the half term break. Many people were trying to journey around the M25 we hear. Consequently the total raised was slightly down on expectations and came in at £212.50p.
This will be trebled by the Bill Gates Foundation and at a later stage we will be able to apply for Gift Aid within the small donations scheme, turning this into nearer £700. Renewed thanks to you all.
Hurst Green Fair. Saturday 20th Sept
Thanks go to all the visitors to our Pirate (Fellow)Ship.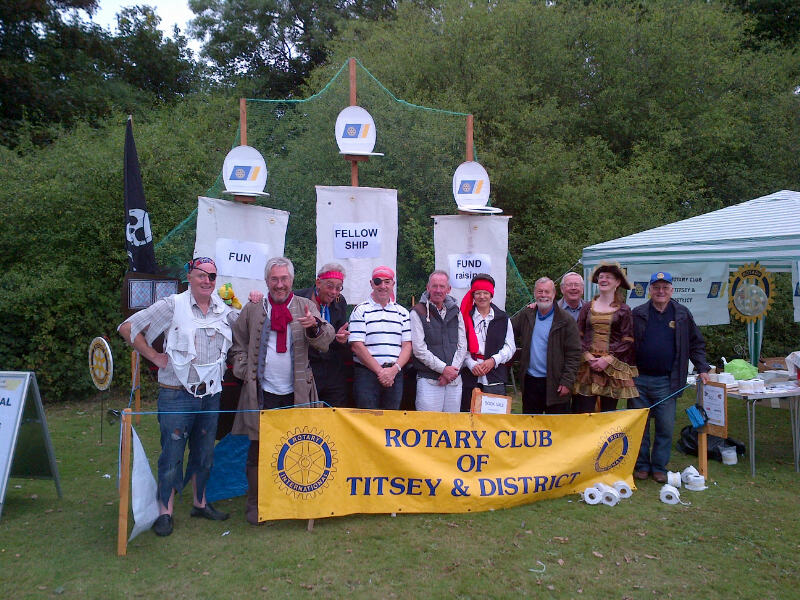 Titsey Rotary Club participated in the annual Hurst Green Fair in Hurst Green on Saturday, 20th September with the aim, as always to raise three things. Firstly money for charities supported by Rotary. Secondly to raise the profile of Rotary in the community and thirdly to raise a smile on the faces of those who come to the event.
We think the smiles on the faces of the kids - and those of the big kids, made the day worthwhile. We had a double pitch and, even though we were tucked away at the lower end of the site, I think we made an impression. One lady even commented that the only reason she came to the Fair was to bring her kids to our Galleon! It was erected with the usual panache, and the book stall sold about 50% of its books. A big thank you goes to Ken B who, despite not feeling on top of the world, bravely supervised the Treasure Chest game, and managed to give away nearly all of the lollies (and profits?).
We took in just under £200, which, after expenses (pitch fees and sweets etc.) means we netted about £100. Not bad considering our ultra-low price points of £1 and 50p - but it really wasn't about raising money. It was a lovely day of Fellowship and Fun, and thank you all once again to all those who played Bog-Roll Basketball.
Titsey Rotary Made It Happen For Henry
In early February this year, the Club raised nearly £1500 from Bucket Collections outside Boots and Morrisons supermarket. This, when added to nearly £600 in private donations received by the Newlife Foundation for Disabled Children (which was supporting Henry), enabled the All-Terrain Buggy which Henry needed, so he could more easily more easily be taken into the countryside he loved, to be ordered.
Henry has just received his 'new transport' and can be seen below with Mum, Caroline; Club President, Alan Wellman; Secretary, Brian LeMasurier and Project Leader, Peter Budge