The Club was formed in 1985 and attracted members of the Rotary Club of Oxted & Limpsfield for whom lunch time meetings were inconvenient. Titsey & District will be celebrating its 30th anniversary on the 19th June 2015.
The historic village of Titsey is situated at the foot of the North Downs on the Kent and Surrey border.
We meet at the Carpenters Arms, Tally Road, Limpsfield Chart, RH8 0TG (turn right signposted Crockham Hill and Edenbridge, just after traffic lights as you leave Oxted going east on A25) every Wednesday evening at 7.30pm for 8.00pm. If you would like to visit us on one of our club nights, arrange a raid from another club, or enquire about membership of our club, please call the Titsey Club Secretary (Sue Lippmann) on 07976 836363.
The Titsey Treasure Trail is designed to suit everybody with a keen sense of adventure and a desire to explore, whatever their age. It will be great for a family walk and a good way to keep children entertained whilst doing something healthy. Children who can read will love getting involved in solving the clues and smaller children can enjoy the fresh air and exercise.
However, the Trail is not just for children. Take a group of friends of any age out for an afternoon of fun and entertainment in the great outdoors, stopping for lunch at any of the multitude of pubs and restaurants in the area.
CLICK HERE to read more about the event
Master Park, Oxted, starting at 10.30am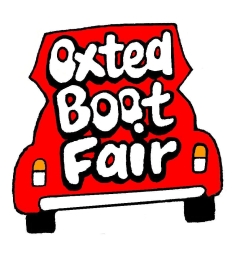 Titsey Rotary Club is holding its annual Oxted Boot Fair on Master Park, Oxted on Sunday, 7 June 2015 to raise money for charities supported by Rotary.
This is your opportunity to have a good clearout at home and have some fun, while earning some money from your unwanted items and supporting good causes. One particular beneficiary will be Master Park itself which will receive half of all the pitch fees.
Master Park can hold a maximum of 300 cars/vans and last year the park was nearly full to capacity so, for this year's event, we are changing the pitch-booking arrangements slightly. If you book your pitch and pre-pay it (cars: £10 and large vans: £20), you will be GUARANTEED a pitch. Pitch set-up starts from 9.00am. Official opening 10.30am.
If you just turn up on the day, without pre-booking, the pitch fee will be £15 for a car and £25 for a large van. We will do our best to fit you in, but we cannot guarantee you a pitch.
Click on the Oxted Boot Fair Car to book online, or you can ring 01883 713164 or 01883 715697 and send a cheque to Titsey Rotary Club, c/o 61 Park Rd, Oxted, RH8 0AN